#EducateToInnovateWithSTEM
About Us
Youth Bridge Foundation
Educate To Innovate With STEM
Educate to Innovate with STEM (Science Technology, Engineering and Mathematics) is a three-year project that has the primary goal of improving the performance of students in the core subjects of Science and Mathematics at the Basic Education Certificate Examination (BECE) and West African Secondary Certificate Examination by 50 per cent.
It is implemented by Youth Bridge Foundation, a youth focused non-governmental organization that aims at bridging the gaps for positive youth development with funding from Tullow. This project aims at promoting and inspiring interest in STEM education across the six (6) coastal districts of the western region namely; Shama, Sekondi Takoradi, Ahanta West, Nzema East, Ellembele and Jomoro Districts. Targeting mainly basic and senior high schools, the YBF adopts a three pronged approach of Education, Mentorship support and Technological & Engineering skills development for the project implementation.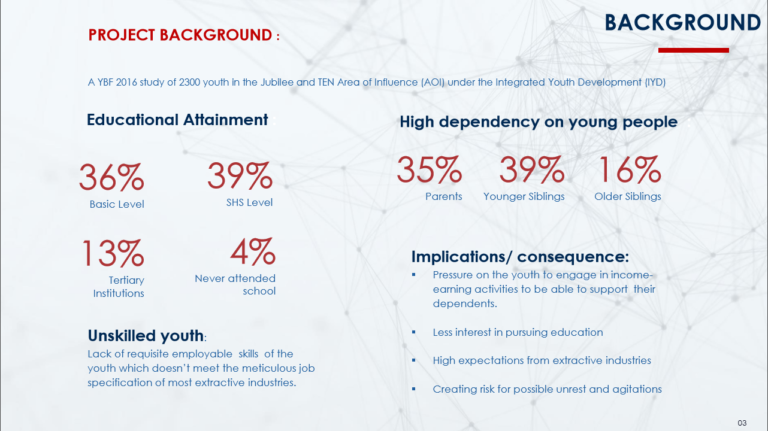 To create a community and an economy that creates wealth, solves problems and engage individuals with full potential as the drive for youth empowerment through Science Technology, Engineering and Mathematics (STEM) 
We provide high quality support to educators, ensuring young people receive the best possible STEM education.
Our work is to make accessible to young people practical STEM learning Centre for hand-on experience in a youth-friendly environment and to challenge innovation
We prepare the youth to become more relevant to effectively participate in the highly technological and engineering labour market by using Science and Mathematics knowledge.
Our work is to make accessible to young people practical STEM learning Centre for hand-on experience in a youth-friendly environment and to challenge innovation