From the popular streets of Makola in Accra, Ghana comes an inspiring story of a determined 17-year-old teenage nursing mother and student, Rita Awuni who is set to take the Basic Education Certificate Examination (BECE) in November 2021. Rita's story comes at a time where education especially for the youth has been greatly challenged with a worldwide pandemic – COVID 19. Growing up an orphaned street child and now a mother, it is fulfilling to see her resolve to complete her basic education, pursue higher education and ultimately reach her dream of becoming a teacher.
Following a report in September 2021 on Rita's story by the Ghana Broadcasting Corporation, Youth Bridge Foundation (YBF), joined the collective efforts of Ghanaians including the Vice President of Ghana, Dr. Mahamudu Bawumia to support her dream as well as that of her colleagues of the Independence Avenue Cluster of Schools.
Inspired by the gains and impact of the "Educate to Innovate with STEM Project" funded by Tullow Ghana and implemented by YBF, a STEM Clinic was organized for Rita and her colleague JHS final year students to expose them to practical Integrated Science learning.
At the one-day clinic designed with comprehensive practical laboratory sessions covering Chemistry, Biology and Physics, Rita and her mates eagerly engaged the Project Tutors led by Mr. Dominic Bentum and teachers of the school in this once-in-a-lifetime opportunity.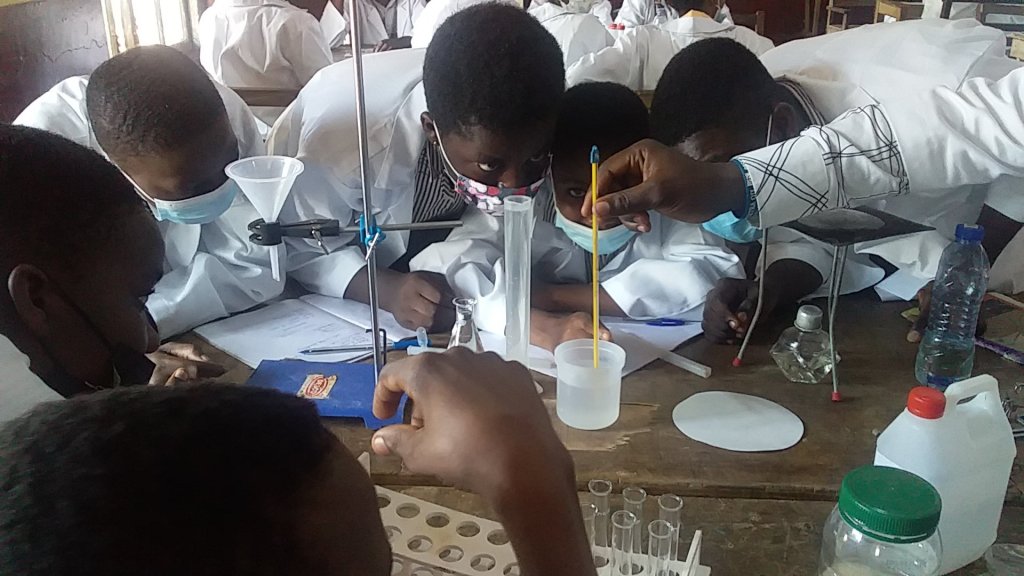 Speaking to the media, the Head of Finance and Administration at YBF, Efua Filson Fynn, emphasized the Foundation's commitment to educational progression among the youth.
"STEM is the future. Our children cannot, must not and should not be left out in the work of the future. We are happy to join this call in providing educational support and progression for young Rita and her classmates. Her story represents one of the thousands of students who are benefiting from our project with Tullow Ghana" she said.
Mr. Stephen Abamfo, the Accra Metro Director for Education visited the candidates to show his support, stating his appreciation to Tullow Oil Ghana and Youth Bridge Foundation for the initiative. He also encouraged students to take advantage of the STEM Clinic and use the knowledge acquired as a launch pad to pass the Integrated Science paper.
The Foundation is also facilitating the provision of extra STEM tuition to Rita Awuni by volunteer teachers to complement her preparation towards the examination in November 2021.
We could not agree more with the statement written boldly at the Independence Avenue Basic School hall (where the STEM Clinic was held) – 'Educating the child is everybody's business' – which resonates with YBF's commitment to harness meaningful collaborations to help bridge developmental gaps among disadvantaged youth like Rita.
We are in a CRISIS but EDUCATION continues because YOUTH MATTER.